FUN FACT – The average HVAC system cycles air throughout your home 92 times a day. Your indoor air quality is one of the most important and least thought about aspects of your home.  We specialize in mathematically designing new systems that provide the proper cubic feet per meter into certain designed areas of your home. Worn out or improperly sized duct work will cause your system to work harder than necessary and decrease its lifespan, which causes an increase in your utility bill.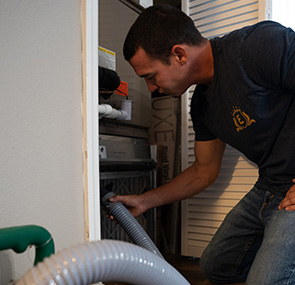 We use a specifically designed industrial fogger machine, filled with a mixture of water and hospital grade sanitizer that is safe for all humans and small animals. The fogger is sprayed into the return and cycles throughout your ducts, killing all the germs inside your home's air system. The sanitizer, however, will not prevent bacteria or mildew, that's where the UV light comes in.
Having UV lights installed in your HVAC system is extremely beneficial. UV lights not only help keep germs, bacteria, mold, mildew, and viruses out of your ducts, they also allow your system to perform at its maximum efficiency which keeps energy bills lower. Specifically, the UV light is placed in the Air Handler Cabinet and treats your system like the sun. The kill radius prevents 99.9% of germs as air flows throughout your house. Not only does that keep your family breathing cleaner air in your home, but it prevents dust build up on your blower motor and coil increasing the efficiency of your HVAC system.
Much different from the original pleated filters. Electrostatic filters use static electricity to give particles a positive charge as they enter the filter. This charge is released as the air continues through subsequent layers of the filter and results in the particle ultimately getting trapped. These filters have a ten-year life span on the magnetic portion and have replaceable Merv filters that sit inside of them which need to be changed once every six months. They are most beneficial for homes with children, pets, people with allergies and are extremely valuable to those who smoke inside their homes.
If you are looking for adaptations and solutions to improve the indoor air quality in your home, call Empire Air & Heat at 321-522-6248.