Heating Maintenance for Your Florida Home
At Empire Air and Heating, we specialize in providing top-notch heating system maintenance services to keep your system running smoothly all season long. Our team of certified technicians is equipped to handle any issues you may encounter with your heating system. With our commitment to providing exceptional service, you can trust us to keep you warm and cozy even on the coldest days.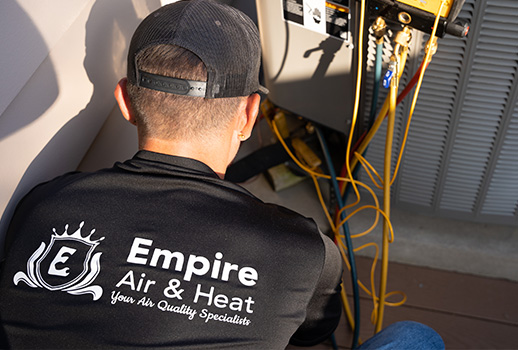 While you can perform basic heat pump maintenance and general heating system tasks, there are some routines that are best left to well-trained and experienced technicians. These include:
System inspection. A professional HVAC technician can conduct a thorough inspection of your heating system to identify any issues that may require attention.
Cleaning. Over time, your heating system can accumulate dirt, dust and other debris, which can affect its performance and efficiency. A professional technician can clean your system thoroughly, removing any buildup that may have accumulated.
Filter replacement. A professional can help you determine the appropriate replacement schedule and ensure that the filter is properly installed.
Electrical checks. Your heating system includes a number of electrical components that need to be checked periodically to ensure that they're functioning properly.
System tune-up. Regular tune-ups can help ensure that your heating system is running at peak efficiency. A professional technician can perform a range of tasks during a tune-up including adjusting the system's settings, lubricating moving parts and verifying proper operation of the system.
Why choice us for your heating maintenance need?
Professionalism. Maintains high levels of service and integrity
Customer Relationships. Establishes and cultivates relationships with customers
Experienced Staff. Hires, develops and retains knowledgeable employees
Emergency Services. Offers 24/7 AC emergency services with no after-hour fees
Air Quality Focus. Mission to improve customer's air quality through professional installation and service
Get in touch with us at once for furnace maintenance and related heating unit servicing.