Air Conditioning Maintenance for Your Florida Home
Scheduling regular maintenance on your HVAC unit by a Licensed Contractor and Certified Technician is essential for lengthening your unit's lifespan and keeping it energy efficient. Sometimes dirt and debris can build up in your outdoor unit's Coil (or Condenser) forcing your system to consume extra energy in order to cool your entire home.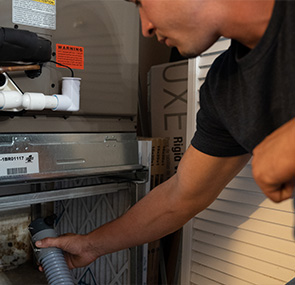 The two most important factors that play a role in the efficiency and longevity of your HVAC system are the installation, and how well it's maintained. To ensure you receive the full efficiency your unit has to offer, seasonal maintenance is highly recommended and in most cases is required to be in compliance with your warranty agreement.
During your planned preventive maintenance service, a trained professional will perform a number of tasks to help prolong the lifespan of your unit and allow your system to function as it was designed. Some tasks including cleaning out your system's drain line, washing down condensers that are located in a corrosive habitat, cleaning inside and outside coils, and sanitizing your home's air supply system are just some of the services included with our maintenance services. 
Additionally, on your first preventive maintenance service, a pull out T will be added to your drain line if one does not currently exist. We will show you where and how to pour one cup of white vinegar down your drain line periodically to keep your line from clogging. We also will have a safety float switch installed in every unit we servicer to ensure your home does not flood in the case of an emergency.
Proactive Maintenance Tips
While we are only a phone call away, here are some in-home tips you can do to take care of your system, as well as maintain your indoor air quality.
We recommend changing your air filter every 30 days , this will take pressure off your blower motor, and allow your indoor coil to pull humidity much easier. This tip is especially helpful to clients who have allergies, headaches or asthma.
Adjust your thermostat to a more energy efficient temperature. While you are out of the house during the day, turn the air up and save energy. Don't put your AC unit to work while nobody is home to enjoy it.
Clear away outdoor debris. Be sure there are no leaves or grass preventing your outdoor coil from operating properly. Clear away debris periodically and wash pollen off the coils.
Give us a call at Empire Air & Heat for your next HVAC maintenance, repair, or installation. Customer satisfaction is our highest priority. Let us know how we can help you today at
321-522-6248.